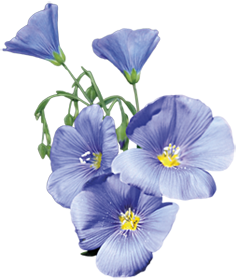 Flaxseed Oil is a natural doctor
Flaxseed Oil is an unheralded and truly Russian product. Although production of flaxseed oil was replaced by the cheaper and massive production of vegetable oils, it significantly surpasses them by its useful properties. Content of Omega-3 polyunsaturated fatty acids in flaxseed oil is twice as high as in fish oil. Flaxseed oil is a "live product" highly sensitive to oxygen exposure, sunlight and high temperature. It is therefore essential that this oil is produced by first cold pressure method without refining.
Flaxseed Oil:


Prevents vascular diseases and the formation of blood clots;
Promotes reduction of cholesterol level and prevents the formation of cholesterol plaques;
Promotes reduction of blood viscosity, regulation of fat level;
Promotes reduction of arterial tension;
Improves skin and hair;
Promotes regulation of digestive and metabolic processes;
Has soothing, coating, and slight laxative effect;
Promotes healing of injured tissues.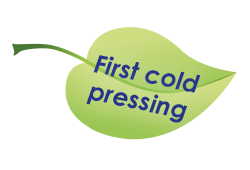 Flaxseed oil thins the blood, improves the state of vessels, is extremely useful for prevention and as an aid in the treatment of cardiovascular diseases, improves the state of skin and hair, and promotes healing of injured tissues. Flaxseed oil has soothing, anti-inflammatory, coating, diuretic, light laxative, and bactericidal effect. Flaxseed oil is recommended at the inflammation of kidneys and urinary bladder, stones.
Interesting!
Taste of flaxseed oil depends on the sort of flax as well as of its planting conditions. However, a distinctive feature of the natural flaxseed oil is a continuing bitterness in its taste and specific odor reminding of the fish oil.
"Flaxseed Oil First cold press" has the registration of the Russian Federal Service for Surveillance on Consumer Rights Protection and Human Wellbeing (Rospotrebnadzor) of the Russian Federation. Certificate of State Registration No. RU.77.99.11.003.Е.004988.11.17 dated 21.11.2017, Technical Specifications (TS) 10.89.19-036-78056148-2017.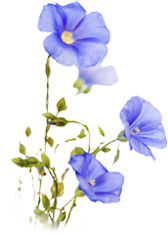 Composition: Unrefined first-cold pressed flaxseed oil, a mixture of tocopherols (antioxidant).
Content of Omega-3 polyunsaturated fatty acids: no less than 50%.
Scope of use: it is recommended as a dietary supplement – an additional source of Omega-3 polyunsaturated fatty acids (PUFAs).
Recommended use: Adults 1 teaspoon (5 ml) one time daily with meals. The period of administration is 1-2 months. Administration may be repeated as necessary. It is recommended consulting a doctor before administration. It is not a medicine.
Contraindications: Hypersensitivity of the components.
Storage: keep in a dry place, out of sunlight and a child's reach at a temperature of no more than 25°C. Shelf life is one year. After opening the bottle, store in the refrigerator for no more than 60 days.